If you would like a less time intensive rewards proxy, you can now enable automated voting and un-voting of whitelisted Block Producers (BPs) that have registered to your proxy.
Disclaimer:
In order for us to vote or un-vote on your behalf you must give us a vote permission on your account. We have zero control on the account apart from voting. You remain in control of the owner keys at all times and can override the vote at any point in time. This is purely an optional feature to make management of your proxy less time consuming. Note; this will be a RED transaction Scatter so do not panic.
How to Enable Auto voting/un-voting?
You can enable automated voting and un-voting from two areas on the Genpool.io platform.
Toggle on auto voting/un-voting when initially registering a proxy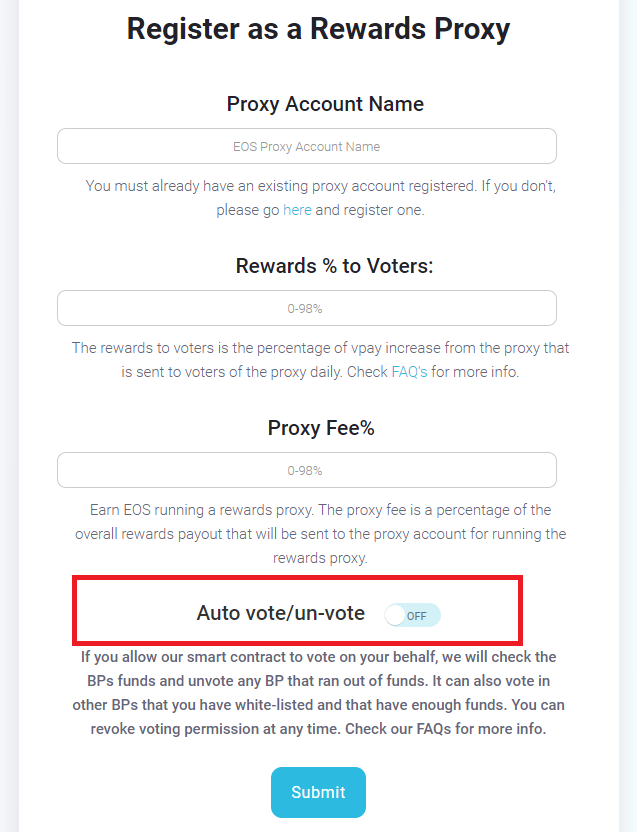 If you have an existing proxy or would like to remove auto voting/un-voting you can head to the proxy dashboard and in your rewards proxy page toggle on or off auto voting/un-voting. Please make sure you have already whitelisted BPs before you do this, otherwise it will remove any currently voted BPs that are not whitelisted, see below for more details.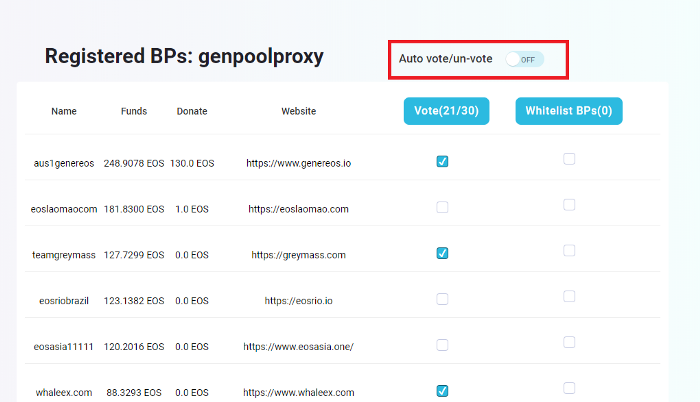 Auto Voting
Automatically vote in BPs from a preselected whitelist of BPs. Head to the dashboard page and find your proxy in the list. Once you are in your proxies page you will see a whitelist column on the far right of the table with select boxes. Select BPs from the list of registered BPs and hit the whitelist BPs button, you can select over 30 BPs here so that if some are un-voted due to low funds they will be replaced by other whitelisted BPs and your APR kept in tact — we recommend selecting 35–40 BPs at a minimum. You can override these votes at anytime by voting manually with the vote button to the left of the whitelist button.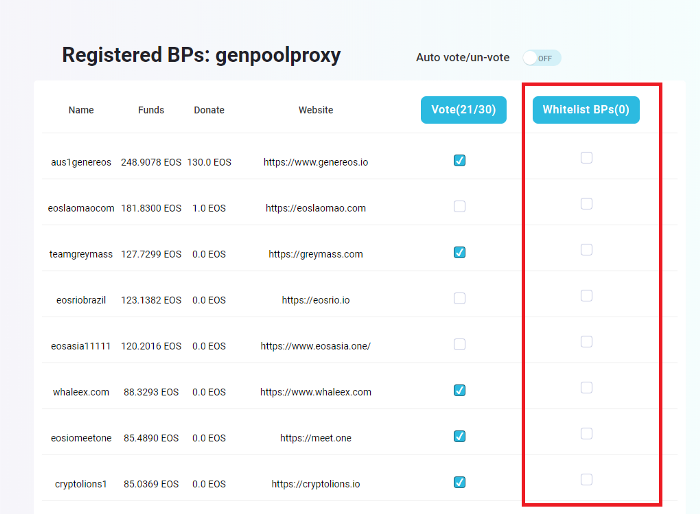 Auto Un-voting
Automatically un-vote BPs when they run out of funds. As it reads, BPs from your white list will simply be un-voted when they run out of funds and replaced with other BPs in your whitelist. If the original voted BPs fund their account again then they must contact you and you can override the vote with the vote button next the the whitelist button to add them back in.
Roadmap
Add multiple token reward options and loyalty bonuses
Referrals. Allowing wallets, block explorers and users incentives for referring voters or new proxies onto the platform.
Launch of the Genpool native token. Our native tokens will hold many features such as time based loyalty rewards for assigning to proxies on the platform along with games and lotteries.
About Us
GenerEOS is a social enterprise stand-by EOS Block Producer with a mission of promoting and supporting scalable and highly reliable block production whilst giving back block rewards to social causes.
Based out of Sydney, Australia, GenerEOS is founded by a team of like-minded blockchain enthusiasts with diverse backgrounds and a passion to make a difference in the world and fostering the spirit of generosity by giving back.
Please remember to vote for 'aus1genereos' so we can keep working hard to add value to the EOS community.
GenerEOS: The Future of Giving!