EOSToolKit.io – Your Complete EOS Tool Suite
---
Safe, Secure, Transparent and Fast!
点击此处获取简体中文版
EOSToolKit has undergone a major Revamp
! Over the last week, we have rolled out many features to the community working with them to deliver the best product possible. We gathered feedback and customized to suit your needs. You spoke and we listened! Additionally, we have given the GUI a major makeover!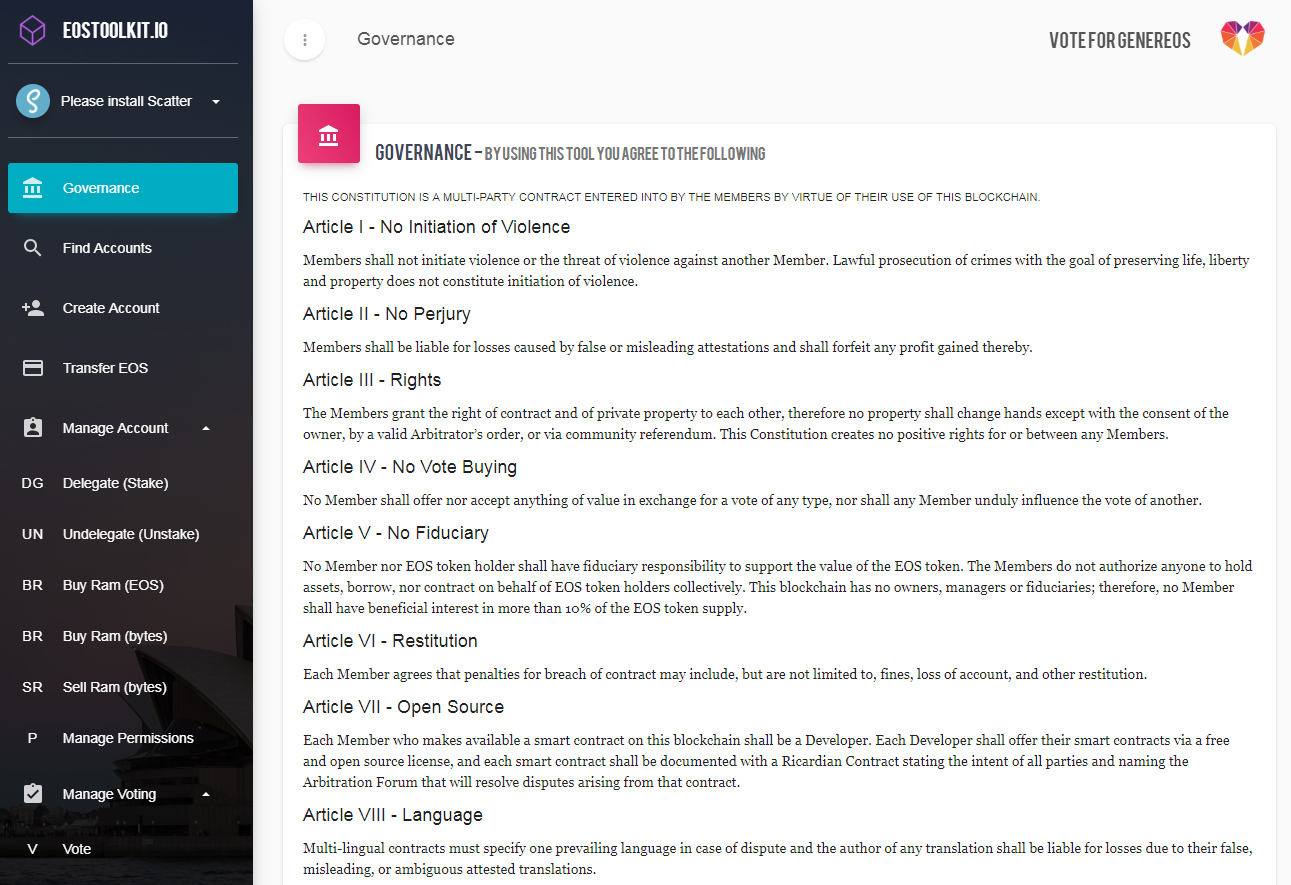 Existing Features:
Click here for a tutorial on how to use the above features
EOSToolkit.io is a web based application developed with Scatter signing so you can trust that your private key is kept safe and secure at all times. If you'd prefer to review the code yourself you can find Scatter here.EOSToolkit here
New Features:
Staking/Unstaking
RAM Buy/Sell
Permissions Management
Transfer EOS
Staking/Unstaking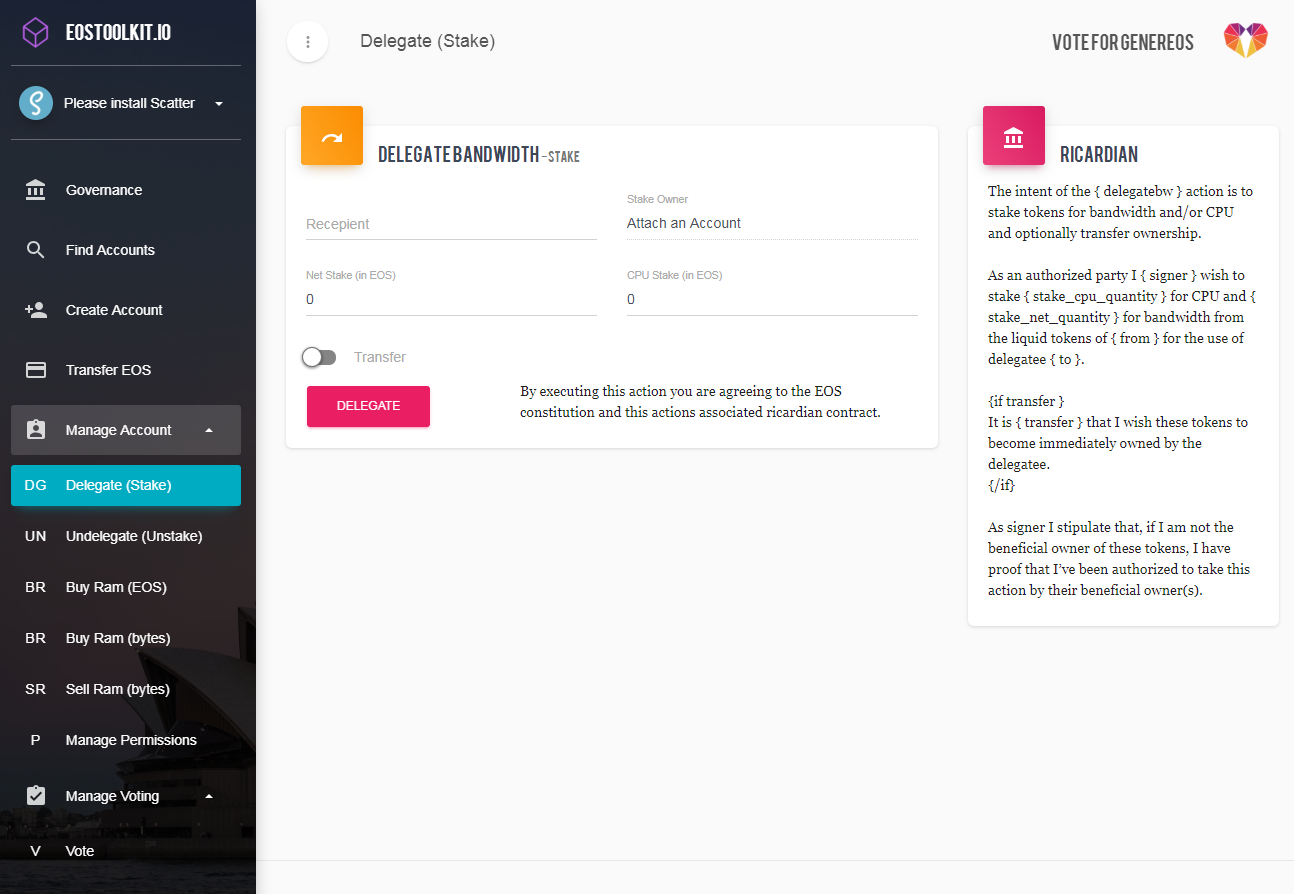 Head over to http://eostoolkit.io/
Attach Identity with Scatter (see here for tutorial)
Enter your creator account name and account name (usually the same) – this can be found in your scatter identity.
Allocate your NET and CPU in either the Delegate or Undelegate section
Finally hit the Stake/Unstake button
RAM Buy/Sell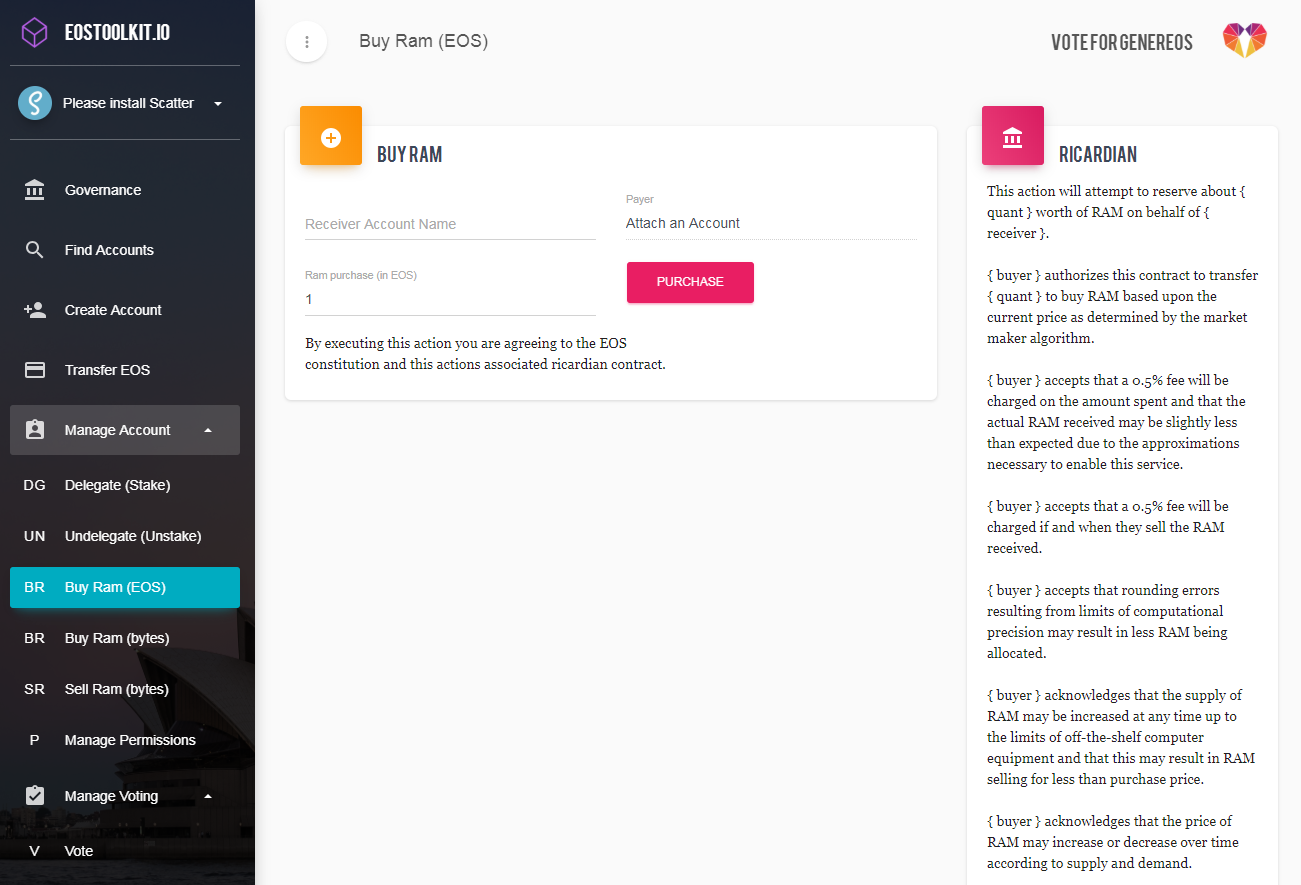 Courtesy of EOS Nation
Head over to http://eostoolkit.io/
Attach Identity with Scatter (see here for tutorial)
Enter your account name into buy or sell section – this can be found in your scatter identity.
For Buying RAM you must include the receiver account and quantity you would like to pay for RAM
To Sell RAM you must enter the account you wish to receive EOS for sold RAM and the amount of RAM bytes you wish to sell.
Finally hit the Buy/Sell button
Permission Management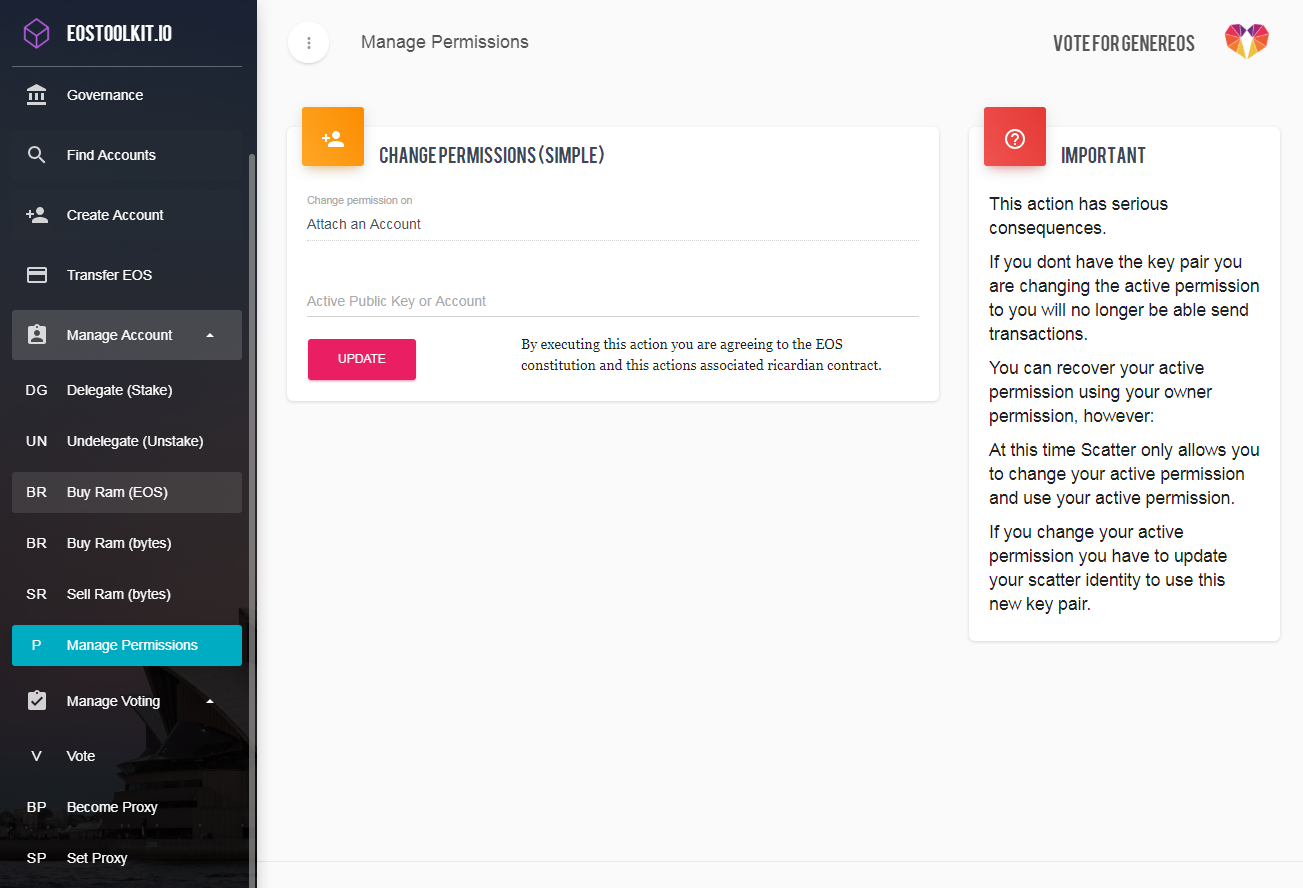 Head over to http://eostoolkit.io/
Attach Identity with Scatter (see here for tutorial)
Enter the account name you want permissions changed from
Enter the Public Key or Account name you would like permissions changed to
Finally hit the Update button
Transfer EOS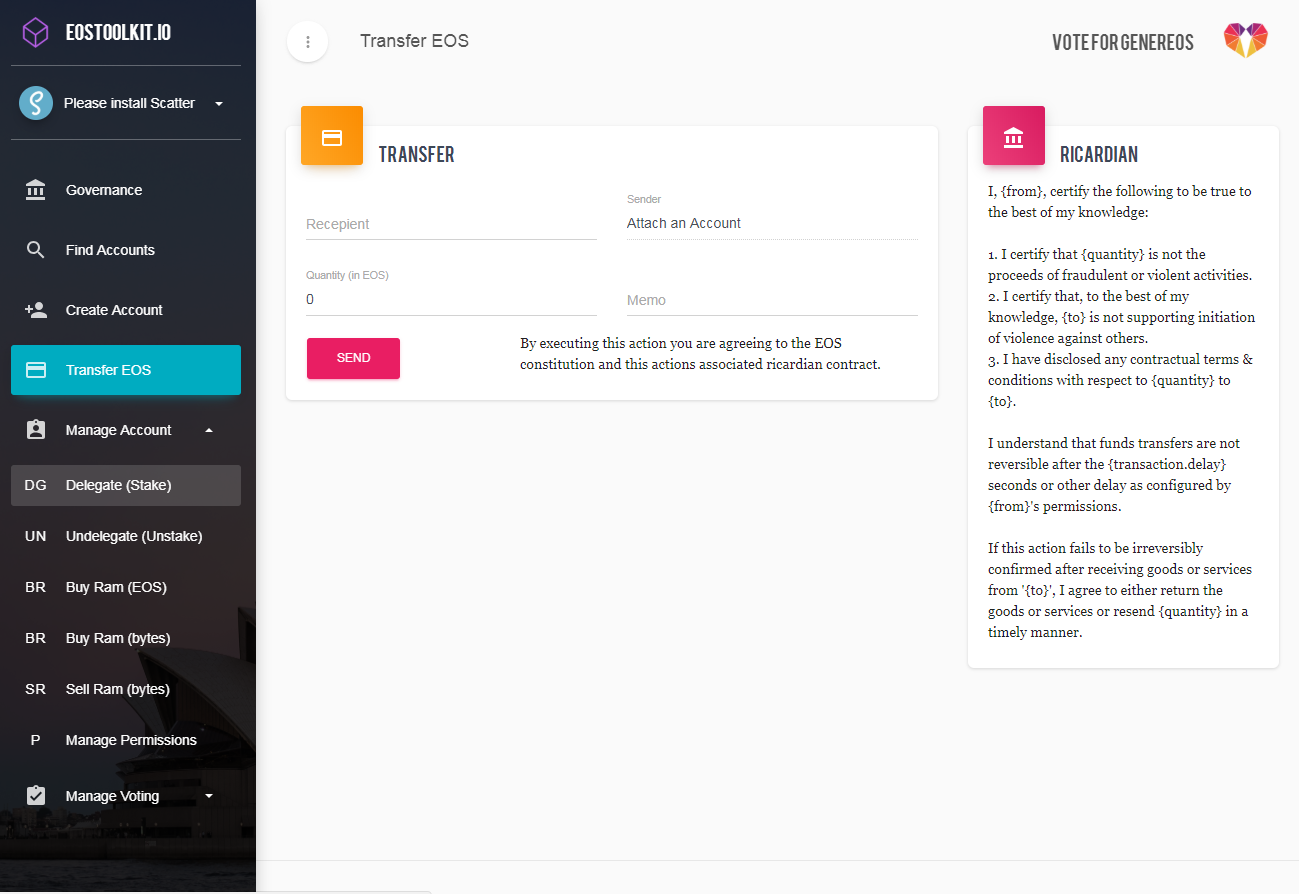 Head over to http://eostoolkit.io/
Attach Identity with Scatter (see here for tutorial)
Enter the account name of the recipient
Enter the the amount of EOS you would like to transfer
Finally hit the Send button
EOS Nation (eosnationftw)
nsjames
Roadmap
Improved UI
Multisig permissions
EOS Tokens balance/transfers
Multisig transactions
Dapp/smart contract transaction
Airdrop tracking
Block explorer
Offline desktop version
Thank you – we hope you enjoy our tool, we endeavour to continue enhancing it and working with the community to bring the best EOSToolkit possible